The School has two innovative laboratories for the purposes of teaching, research and consultancy in the areas of structure and concrete technology.
A. Structural Laboratory
The following equipment is available in the lab:
Friction on Incline Plane Apparatus
Torsion Bar Apparatus
Continuous Beam Apparatus
Roof Truss Apparatus
Portal Frame Apparatus
Shear Force and Bending Moment Apparatus
Reaction of Beam Apparatus
Torsee Universal Testing Machine 50T
Torsee Universal Wood Testing Machine 10T
Gotech Universal Testing Machine 50T
Diamond Bar Bender
B. Concrete & Cement Lab
B1. Materials Testing Equipment
Screen Shaker, Test Sieve, Riffling Box etc.
Los Angeles Abrasion Machine
Sodium Sulfate Soundness Test Equipment
Infra Red Oven/Air Ventilated Oven
Rock/Slag Crusher
B2. Mix and Testing Fresh Concrete
Slump Test Apparatus
Compacting Factor Apparatus
Mortar/Concrete Mixer
Vibrating Table/Rod Vibrator
Steel Mould (Cube/Prism)
B3. Hardened Concrete Testing (destructive testing)
Autotest 3000 BS/ELE Compression Testing (Digital) Machine
50 kN Flexural Testing Machine
Soiltest Compression Machine (Analog)
Magnus Frame Apparatus (Frame & Loading Hydraulic Motor)
B4. Hardened Concrete Testing (non-destructive testing)
PUNDIT Ultrasonic Concrete Tester
Surface Hardness Testing (Schmidt Hammer)
Crack Detection Microscope
Multi Position Strain Gauge (Digital)
Concrete Permeability Equipment
B5. Cement Testing
Initial/Final Setting Time Test (Vicat Apparatus) - Auto
Determination of Cement Finess Apparatus
Bricquette Appratus
C. Other Equipments
Calibration Device
Hollow Block Making Machine/Steel Moulds
Drill Hammer
Concrete/Masonry Cutter
Foaming Equipment
Balance (Heavy Duty/Digital)
Husk Disk Mill Machine
Accelerated Curing Tank
Air Compressor
Digital Calliper
Concrete Coring Machine & Diamond Core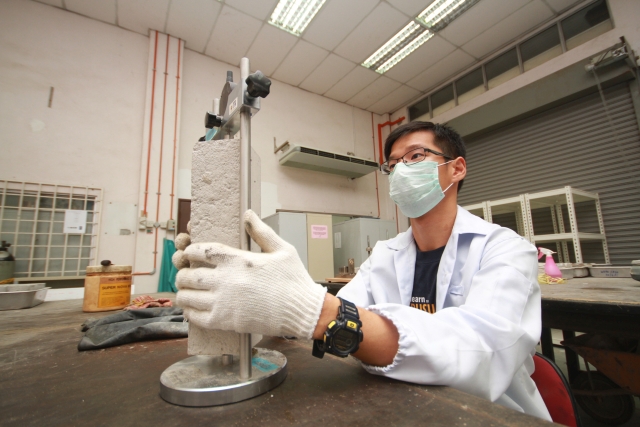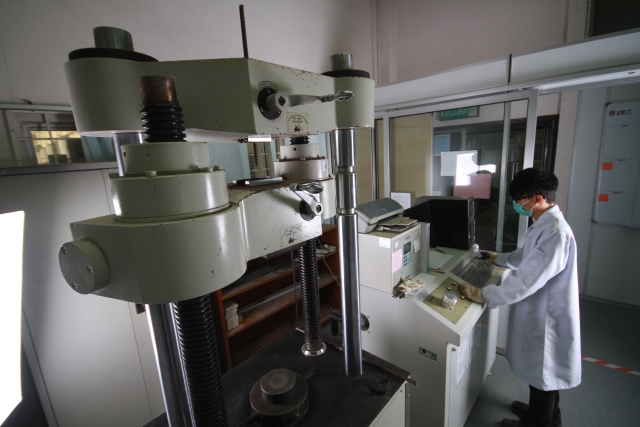 Under construction...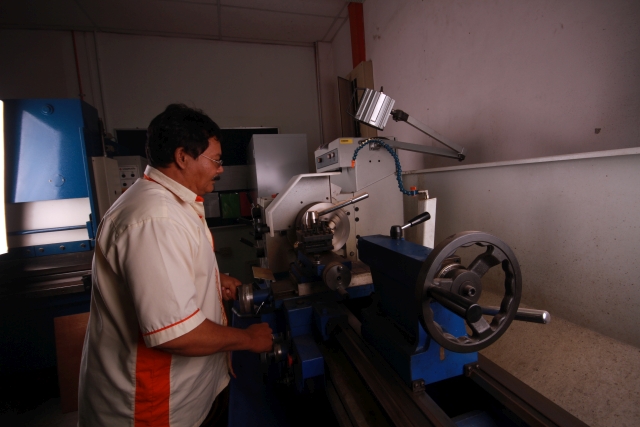 List of equipment available in the laboratory are:
Levelling Equipment complete with accessories
Digital Theodolite complete with accessories
Prismatic Compass complete with accessories
Plane Table complete with accessories (Alidade sets)
Compass
Measuring tape / linen tape
BUILDING TECHNOLOGY LABORATORIES
 The Building Technology Laboratories are provided for the purposes of education, research and consultancies. They consist of:
Structural laboratory

Concrete and cement laboratory
Lab Coordinator:
Mohd. Rodzi Ismail
Tel: 04-653 2841
Lab Assistant:
1. Khalid Ahmad
2. Idris Shaari
Tel: 04-653 3280
STRUCTURAL LABORATORY

The equipments available in this laboratory can be divided into educational and, research and consultancies purposes.

 The equipments for educational purpose are:

Friction on Incline Plane Apparatus

Torsion Bar Apparatus

Continuous Beam Apparatus

Roof Truss Apparatus

Portal Frame Apparatus

Shear Force and Bending Moment Apparatus

Reaction of Beam Apparatus

 The equipments for research and consultancies purposes are:

Torsee Universal Testing Machine 50T

Torsee Universal Wood Testing Machine 10T

Gotech Universal Testing Machine 50T

Diamond Bar Bender

 

CONCRETE & CEMENT LAB

All the equipments available in this laboratory are meant for education, research and consultancy works and can be classified as follows:

Materials Testing Equipment

Screen Shaker, Test Sieve, Riffling Box etc.

Los Angeles Abrasion Machine

Sodium Sulfate Soundness Test Equipment

Infra Red Oven/Air Ventilated Oven

Rock/Slag Crusher

 

Mix and Testing Fresh Concrete

Slump Test Apparatus

Compacting Factor Apparatus

Mortar/Concrete Mixer

Vibrating Table/Rod Vibrator

Steel Mould (Cube/Prism)

 

Hardened Concrete Testing

Destructive testing:

Autotest 3000 BS/ELE Compression Testing (Digital) Machine

50 kN Flexural Testing Machine

Soiltest Compression Machine (Analog)

Magnus Frame Apparatus (Frame & Loading Hydraulic Motor)

Non-Destructive testing:

PUNDIT Ultrasonic Concrete Tester

Surface Hardness Testing (Schmidt Hammer)

Crack Detection Microscope

Multi Position Strain Gauge (Digital)

Concrete Permeability Equipment

 

Cement Testing

Initial/Final Setting Time Test (Vicat Apparatus) - Auto

Determination of Cement Finess Apparatus

Bricquette Appratus

 

Other Facilities

Calibration Device

Hollow Block Making Machine/Steel Moulds

Drill Hammer

Concrete/Masonry Cutter

Foaming Equipment

Balance (Heavy Duty/Digital)

Husk Disk Mill Machine

Accelerated Curing Tank

Air Compressor

Digital Calliper (XXXXXX)

Concrete Coring Machine & Diamond Core