Industrial and Academic Collaboration
Industrial and Academic Collaboration
INTRODUCTION
A MBPP prototype with a capacity to produce 600kwh per day with 1 ton of feedstock was installed and commissioned in USM in March 2014. It was operated successfully for nearly 9 months.
The MBPP was jointly developed by Usains and Enerbon Sdn Bhd. at a cost of RM1.3 million. It was designed by the world famous biogas consultant Snow Leopard based in Munich. The MBPP prototype was the first of its kind in the world. It was designed to treat kitchen waste combined with green cuts and the end product is methane gas and the effluent can be used as fertilizer. The methane gas can be used for cooking or used to generate electricity.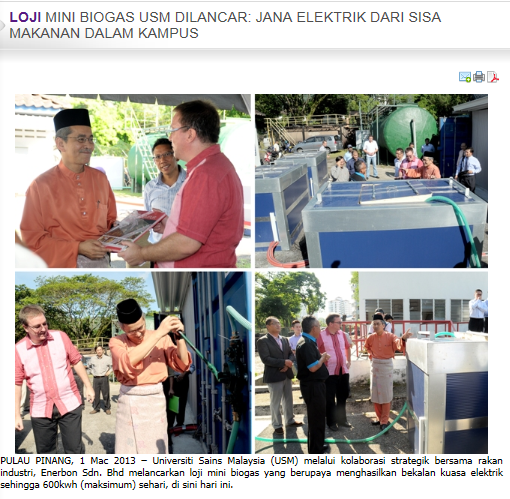 BACKGROUND
The MBPP will replace costly fuels used to run local GenSets for electricity production. In addition, the MBPP creates value due to waste reduction and organic fertilizer production, improves image and reputation and increases living standard in rural communities.
High and continuous increasing fuel and energy costs as well as the demand for decentralized small and mid-size power plants for developing countries and countries without grid infrastructure drives the unique concept of this MBPP.
OBJECTIVES
The MBPP prototype is ready to be commercialized. Usains intend to fully develop this prototype in Malaysia preferably with a local investor/ funder entity. The main disadvantage is the MBPP is currently lying idle. It is impossible to impress a suitor with an idle prototype.
When in operation the MBPP can also be used for Research & Development and post-graduate purposes. Selected academicians can concurrently conduct research with the aid of post-graduate students, preferably PhD candidates.
---
School of Housing, Building and Planning,  Universiti Sains Malaysia, 11800 USM, Pulau Pinang Malaysia
Tel : +604-653 3173 / 2752 | Fax : +604-657 6523 | Emel : hbp@usm.my  |  Admin
All Rights Reserved