Master of Landscape Architecture (MLA)
Master of Landscape Architecture Programme Briefing.mp4
Introduction
The Master of Landscape Architecture programme at the School of HBP is a professional master programme which is offered to candidates from different backgrounds - Bachelor of Landscape Architecture, and bachelor's degree in other related built environment fields (design and non-design backgrounds).
Landscape Architecture is a discipline of art and science of materialising an outdoor environment comfortable for human habitation. Knowledge and expertise in various disciplines are important to a landscape architect. These will be provided by a unique multidisciplinary curriculum and academic faculty in the School of HBP.
In this multi-disciplinary environment, the Master of Landscape Architecture has gained considerable advantage over other higher educational institutions. USM's School of Biological Science and Centre for Marine and Coastal Studies (CEMACS) provide additional inputs which further enhance the programme.
This Master of Landscape Architecture is offered, with the Programme Educational Objectives (PEO), to produce professional graduates in the field of Landscape Architecture from different backgrounds who are knowledgeable, competent, holistic, creative, respected, with forward-thinking mindset and sensitive to the environment. These characteristics are crucial in every Landscape Architecture graduate to ensure the sustainability of landscape development that can improve the quality of life and the quality of environment for the humans and other creatures.
Programme Outcome
Upon graduation, the graduates of Master of Landscape Architecture are able to:
Master the knowledge and skills in determining the sustainability of development in the context of prioritizing society and achievement.
Combine the capabilities of planning, designing, building and managing development and landscaping activities.
Systematically collecting and analyzing field data and scientific studies based on information technology.
Master the ability to communicate in analyzing, presenting and practicing profession of landscape architect.
Demonstrate leadership characteristics through teamwork and involvement in landscape maintenance and management projects.
Demonstrate the ability to find and manage information, adapt to current changes, realize the lifelong learning programs and have the ability to pursue higher education.
Manage landscape industries based on entrepreneurial knowledge with full responsibility and ethics, and able to resolve issues quickly and accurately to produce the best and cost-effective decisions.
Entry Requirements
Candidates interested to pursue the Master of Landscape Architecture degree must fulfill the requirements listed below:
1) Satisfy the general requirements of USM's graduate school.
2) Candidates should hold a first degree with a minimum CGPA of 2.75 and above in any of the following:
Either
a) Bachelor of Landscape Architecture.
or
b) Bachelor degree from Universiti Sains Malaysia OR from other universities in related built environment fields (design based) such as Architecture, Interior Architecture, Urban and Regional Planning.
or
c) Bachelor degree from Universiti Sains Malaysia OR from other universities in related built environment fields (non-design based) such as Quantity Survey, Construction Management, Building Surveying, Building Technology, and other related fields such as Engineering, Botany, Horticulture, Geography, Park and Recreation Management, etc.
3) Other academic and professional qualifications acceptable by USM.
Course Structure
The full-time programme offers Three (3) Study Tracks for candidates from different backgrounds. The course structure for each Study Track is as below: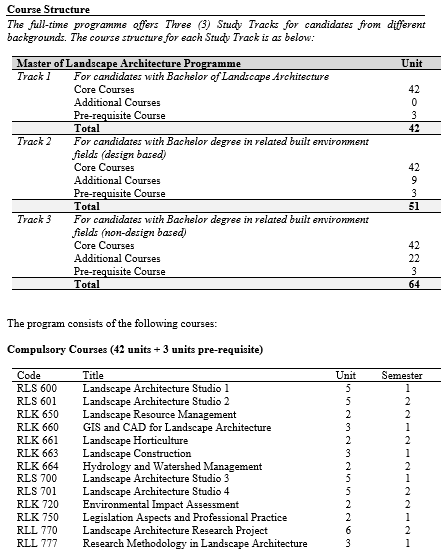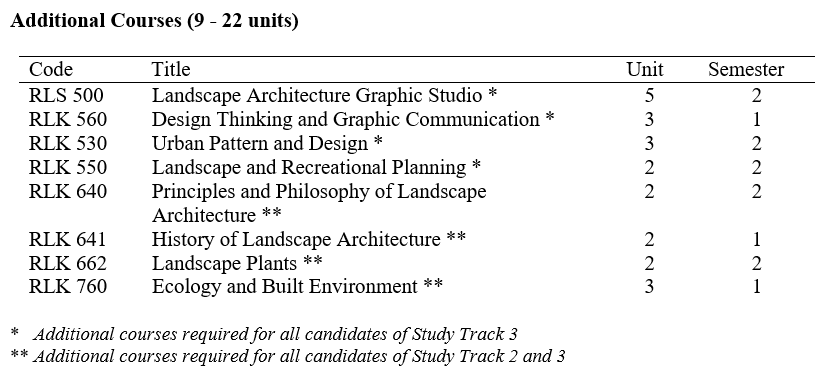 Course Approach
The Master of Landscape Architecture in USM is a taught course programme and is offered as full-time only.
The full-time programme covers a minimum of two-year academic session (4 semesters) and a maximum of four-year academic session (8 semesters) for candidates of study track 1 and 2. While the candidates of study track 3 may take minimum duration of 2.5 years of academic session (5 semesters) and maximum duration of five-year academic session (10 semesters).
The curriculum emphasizes on the Problem Solving-based and Competency-based Learning, especially for Studio courses. Other modes of teaching include lectures, workshops, seminars, discussions, crit sessions, and assignments.
Assessment is made on the basis of coursework and examination at the end of every semester. For research projects, candidates are required to submit a dissertation and attend a viva session.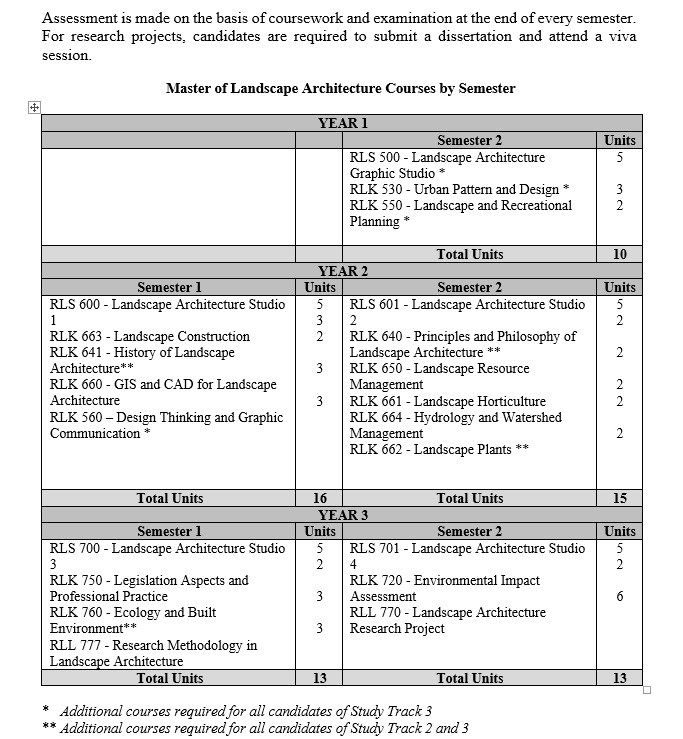 Graduation Requirement
Master of Landscape Architecture degree is conferred to candidates who have accumulated 42 units (for Study Track 1), or 51 units (for Study Track 2), or 64 units (for Study Track 3).
Course Synopsis
A. Compulsory Courses
RLS 600 - Landscape Architecture Studio 1
This course focus on the importance of form, function and aesthetic in landscape design that combine hardscape and softscape elements as the main components, covering small to medium scales projects. Ability to various tools, technique, graphic medium, inclusive perspective drawing and 3D model making.
RLS 601 - Landscape Architecture Studio 2
This course emphasizes on the arrangement of planting composition in landscape as well as the construction and details of timber structures. It also involve costing development and preparation of tender document.
RLK 650 - Landscape Resource Management
The course is an introduction to landscape resource management, concept, issues, opportunities, processes and application in the context of urban, countryside and ecological sensitive areas. Emphasis is given on the management of landscape resources in Malaysia and comparison with those in other developed nation. Discussions will be on methods, values, priorities, ethics and legislatures that influence the above aspects. Malaysia landscape management policy will also be discussed. The course will expose the students to resource management issues in development in sensitive areas like coastal areas and wetlands. Laws related to resource management including Environmental Quality Act will also be discussed. Case study field trip to places with resource management issues or cases with exemplary resource management methods are also part of the course content.
RLK 660 - GIS and CAD for Landscape Architecture
The purpose of this course is to provide understanding and overview of the Geographic Information System (GIS) and Computer-Aided Design (CAD) applications in landscape architecture as a communication tool in the presentation of landscape design. This course utilizes computer applications (GIS, CAD, Sketchup) and GPS equipment as tools to collect, process, manage, analyze and present landscape architectural's data, plan and drawing. Hands-on learning approach is applied.
RLK 661 - Landscape Horticulture
The course provides the opportunity to students to identify, to appreciate and to learn the use tropical ornamental plant materials as softscape. Students are exposed to plant propagation and planting method, management and maintenance of landscape plants and nursery management, all focusing on sustainable methods. Emphasis is also given on landscape designing skill using tropical ornamental plants, using plants for temperature control and improvement of visual and environmental quality. Students are also required to prepare landscape development plans for residential projects to more complex projects.
RLK 663 - Landscape Construction
The course teach students to the principles of site grading and landscape construction, and the techniques of designing hard surfaces in using landscape building materials. Knowledges in relation to design theories which include concrete design, grading methods and exercises that emphasize on materials, functionality, construction, drainage and costing. Site grading, earthworks and construction will emphasizes the understanding and manipulating of landform as a basic component of landscape design.
RLK 664 - Hydrology and Watershed Management
This course is intended to exposed the students the hydrology and the management of a watershed area. The understanding of hydrology is fundamental to the planning and management of watershed areas, which covers morphology of a drainage basin, and hydrological calculation. Students will be exposed also to the MSMA and the design and calculation of sprinkler irrigation system and drainage in an urban landscape setting.
RLS 700 - Landscape Architecture Studio 3
This course focuses on design solutions for large scale landscape encompasing physical, socio-cultural, socio-economic, political and environmental factors. Students will choose an area or a distperict and undergo landscape planning and design process from inventory through to master plan and detail drawings.
RLS 701 - Landscape Architecture Studio 4
This course focuses on design solutions for large scale landscape encompasing socio-economic, political and environmental factors. Students will choose an area or a district and undergo landscape planning and design process from inventory through to master plan and detail drawings.
RLK 720 - Environmental Impact Assessment
This course is intended to expose students to environmental sustainability values with respect to land development in general. Emphasis is given to Environmental Impact Assessment techniques. References and comparisons will be made with various techniques of Environmental Impact Assessment in Malaysia and abroad. Social Impact Assessment and Visual Impact Assessment will also be included in the discussion.
RLK 750 - Legislation Aspects and Professional Practice
The course focuses on the duties of a Landscape Designer as a professional and his role with other professionals. In addition to law, students are exposed to the development process from the production of design drawing to actual construction. The course will put emphasis on the preparation of proposed landscape development report, estimation of development course, contract preparation and specifications.
RLL 770 - Landscape Architecture Research Project
This course train students to conduct research in areas related to the profession of landscape architecture. Typical topics are visual impact assessment, cultural landscape, planning, design, management, construction, landscape ecology, environmental study modeling, and tropical plant study.Thesis or research projects should exhibit creativity, critical and analytical thinking, and scholarly executed.
RLL 777 – Research Methodology in Landscape Architecture (Pre-requisite course)
This course explains the process and method of conducting research systematically from identifying research problem to literature search, techniques in conducting data collection and data analysis. This course also emphasizes on the development of research proposal and the importance of good management of research data and information.
B. Additional Courses
RLS 500 - Landscape Architecture Graphic Studio
This course exposes the students to the media of graphic presentation. It involves the preparation of technical drawings, perspectives, drawing techniques and scale model making of an outdoor environment.
RLK 560 – Design Thinking and Graphic Communication
Graphic communication is the essential language in landscape architectural design. Visual and verbal communication relies on student abilities to develop ideas and presenting them through various means during a different phase of the design process. This course provides students with alternative approaches in decision making called design thinking by understanding the existing problems through the exploration of the landscape architectural design process.
RLK 530 - Urban Pattern and Design
This course focuses on the definition of urban patterns. It also introduces the types of urban physical patterns that exist throughout the world. This course also emphasizes how each of these patterns is derived from the diversity of functions and urban elements that have made each city's pattern unique and functioning with its own system. Major components and elements on the formation of urban area such as financial centre, central business district, retails area, wholesale area, open spaces, recreational spaces, administrative centre, residential area, extended urban area, urban fringes, major corridors, and other districts in a city. Forms, arts, socio-culture, and politics that influence growth of an urban area will also be discussed.
RLK 550 - Landscape and Recreational Planning
Landscape and Recreational Planning is a course that emphasize on the aspect of human and its environment which deals specifically to the assessment aspects, planning, design, and management in landscape and recreational planning This course will give emphasis to issues related to landscape and recreational planning, environmental issues, ecological impacts of recreation, citizen participation in recreational planning, opportunities in designing and planning a recreation area based on the concept of "Design With Nature". Methods and techniques in recreational planning, carrying capacity using the approach of "Limits of Acceptable Changes" will also be discussed. Students will also expose to conflicts and collarboration and communication between stake holders that exist in recreational planning, and lastly, lectures will also discuss on the aspect of recreation and landscape management.
RLK 640 - Principles and Philosophy of Landscape Architecture
The purpose of this course is to provide understanding on the theories, principles and philosophy of landscape architecture from the perspective of landscape historical development and its application in current landscape architecture. Students will be exposed to the design terminology in landscape architecture that involve theories and principles. As well as the philosophical emphasis in landscape development from past to present time which focus on ideas evolvement, design outcomes, organizational processes, recreational aspect, aesthetics and utilities.
RLK 641 - History of Landscape Architecture
The course focuses on the theory of landscape design from the perspective of landscape historical development. Emphasis is given towards design from pre-historic to the 20th century civilization, focusing on culture and the norms of a cvilisation. Students are exposed to landscape architecture design terminologies from the perspectivies of processs organization, utility, esthetic and recreation.
RLK 662 - Landscape Plants
This course introduce tropical plant materials with emphasis on its relationship with local cultures, origin, and its unique characters suitable for landscape design. Both native and introduced species of big trees, shrubs, herbs, indoor plants and turf grasses will be discussed. Students will be able to understand the suitability of plants in design composition as well as site physical and climatic conditions.
RLK 760 - Ecology and Built Environment
This course focuses on the major concepts and principles of ecology, the sciences concerning the relationship between organisms which include plants and homo sapiens, and the biotic and abiotic components of their habitats. The main topics includes, emphasis on flora and fauna, the environment and its interaction; plants community – habits and structure, temporal changes in plants community; eco-system – concept, energy flow in food chains and different trophics level, the main biogeochemical cycles; introduction to Malaysian plant kingdom – highlands, flood plains, marshy areas and human intervention to the ecosystem.
Grading System
Candidates will be assessed according to the Cumulative Grade Point Average (CGPA) system with the following grades distributions: