USM PENANG, 6 November 2020 - The Universiti Sains Malaysia (USM) School of Housing, Building and Planning (HBP) Dean, Assoc. Prof. Ir. Dr. Abdul Naser Abdul Ghani, is happy to announce the continuation of its academic partner membership to CABE, or the Chartered Association of Building Engineers.
According to Naser, CABE is a professional body for building engineers in the UK and several other countries like Australia, USA, Hong Kong, China and Singapore.
"The institution was founded in 1925 as IAAS or the Incorporated Association of Architects and Surveyors in London, and later it became the Association of Building Engineers (ABE) in 1993 and then CABE in 2014 until now. CABE focuses on creating better, safer, more sustainable buildings that enhance people's lives," he emphasised.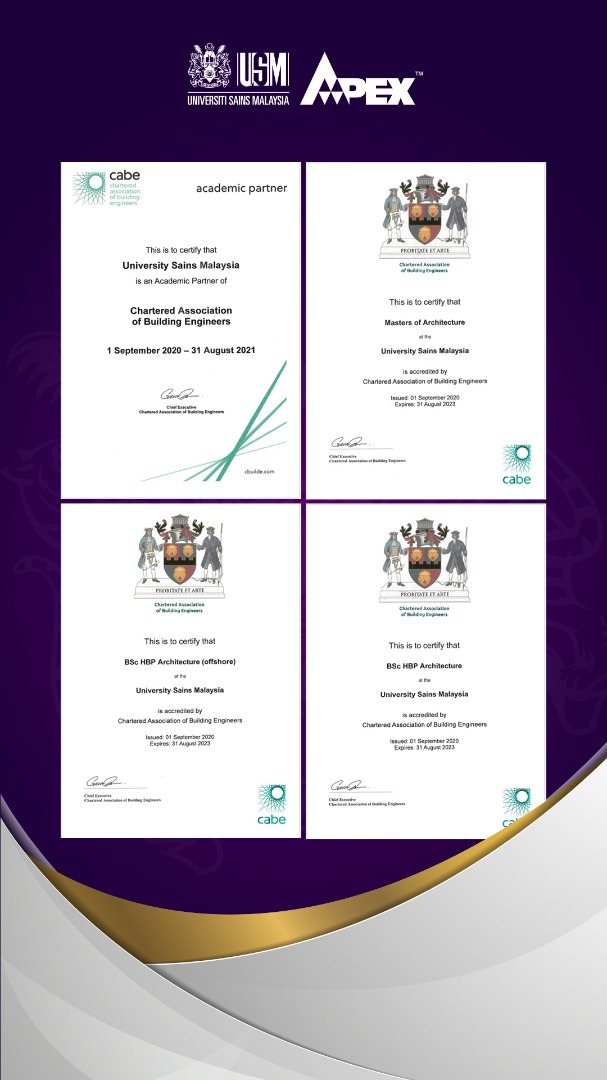 Meanwhile, According to John Barfoot, FCABE, and also CABE's Learning, Education and Academic Director, CABE generally partners with a host of academic institutions around the world, with the goal of driving the built environment forward with uncompromising and meticulous standards.
"To date, there are around 100 institutions throughout the world which are academic partners to CABE, and USM is now one of them, and the first in Malaysia to do so," he said.
Once USM, and HBP in particular, becomes CABE's academic partner, the architecture programme could proceed further to have all of its Part I and II architectural degrees accredited with CABE, including its pioneering and well regarded USMKPM offshore, the HBP BSc Architecture degree at Politeknik Port Dickson.
In the review of the application documents from the architecture courses, and from the interview conducted on 19 October 2020 via TEAMS, the CABE's MPSC or Membership and Professional Standards Committee panel were impressed especially with the quality of documentations, the international exchange and industry links which were found to be excellent for the architecture courses.
HBP was also congratulated on being included in the top 100 of the QS rankings for the Architecture and Built Environment schools.
Representing HBP were the Dean, Assoc. Prof. Ir. Dr Abdul Naser; Assoc. Prof. Ar. Dr. Sharifah Fairuz Syed Fadzil (CABE affiliate member and leader); Ar. Mohd. Najib Mohd. Salleh (Chair of the Architecture programme) and Dr. Nooriati Taib.
Barfoot also recommended that HBP and USM continue to get more courses accredited, especially the ones having close relations with building engineering and the built environment.
CABE will also issue a joint press release to mark the new milestone on USM's collaboration.
With this academic partnership, USM students from accredited courses will be awarded CABE student membership for free, and the best student from the accredited courses will also be nominated for the annual CABE student's awards.
This free CABE student membership is also extended to all USM students taking courses relating to building engineering and built environment.
Text: Assoc. Prof. Ar. Dr. Sharifah Fairuz Syed Fadzil/Editing: Hafiz Meah Ghouse Meah