KUALA LUMPUR, 28 March 2018 – Students from Universiti Sains Malaysia (USM) have made a clean sweep of the top 3 prizes in a nationwide design competition held recently.
Coming from the USM School of Housing, Building and Planning (HBP) and School of Civil Engineering (CE), the students took part in the prestigious 'MSSA-CIDB Open Ideas Competition 2018, the only design competition in Malaysia that combines Architectural and Civil Engineering students in one team.
This is the third time that students from USM have won prizes in the competition within the last 5 years, however, this year's win is more meaningful when USM won the 1st Prize (RM10,000), 2nd Prize (RM7,000) & 3rd Prize (RM5,000).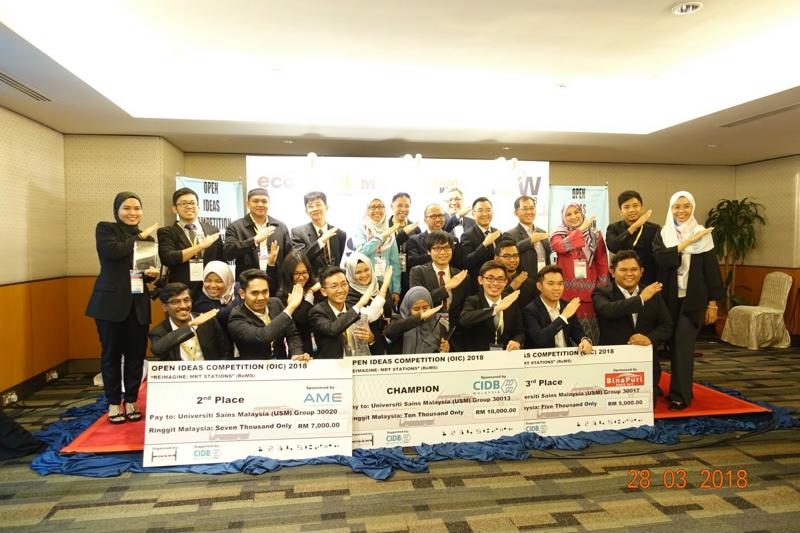 At the Prize-Giving Ceremony held in Kuala Lumpur Convention Centre, the top prizes were presented by the Director-General of Public Works Department Malaysia (JKR), Dato' Sri Ir. Dr. Roslan bin Md. Taha, who is also the President of Malaysian Structural Steel Association (MSSA).
Besides the students and supervisors, USM was also represented by the Dean of HBP, Professor Dr. Aldrin Abdullah and Deputy Dean (Research, Postgraduate & Networking) of CE, Associate Professor Ir. Dr. Choong Kok Keong.
The success came from the hard work by the students and supervisors, as well as the strong support from the Deans of HBP and CE, Professor Dr. Aldrin Abdullah and Professor Dr. Taksiah A. Majid, as well as the Deputy Dean (Academic & Student) of HBP, Professor Dr. Ahmad Sanusi Hassan who also contributed in terms of ideas and views.
In the coming years, the USM Representative in the MSSA-CIDB OIC 2018 Organizing Committee and MSSA Education Committee, Associate Professor Dr. Fatimah Denan hopes that strong cooperation between HBP and CE will be maintained for USM to sustain the winning streak and continue to be at the top in future editions of the competition.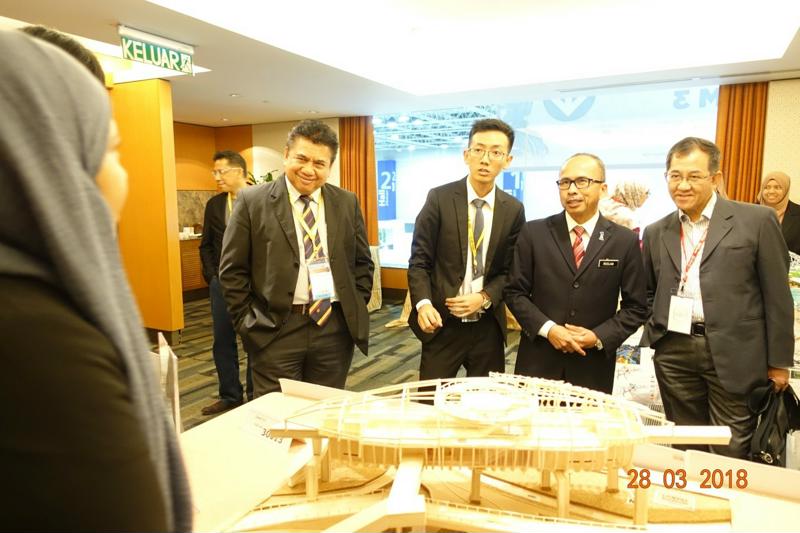 The competition saw the participation of 218 students and 18 supervisors (Architecture and Civil Engineering) from 7 universities all over the country.
1st Prize
| | |
| --- | --- |
| Students: | Kelvin Ah Kian, Chong Chin Xin, Wong Chun Heen & Yasirah M. Kizarali (HBP); Chong Hong Rui & Lim Cheng Kuan (CE). |
| Supervisors: | Dr. Mazran Ismail (HBP); Assoc. Prof. Dr. Fatimah Denan (CE) |
2nd Prize
| | |
| --- | --- |
| Students: | Muhammad Khairul Syahmi Zawawi, Wan Nurnajwa Safura Wan Yaziman & Mohd. Pirdaus Beddu (HBP); Sharvin A/L M Poovaneshvaran & Make Chee Fong (CE) |
| Supervisors: | Dr. Nooriati Taib (HBP); Assoc. Prof. Dr. Fatimah Denan (CE) |
3rd Prize
| | |
| --- | --- |
| Students: | Mohd Shahiran A'mru, Mohd Izzat Mohamed Jizi, Aimi Syahirah Zulkarnain & Nur Saidatul Anizah Sabtu (HBP); Wan Nur Azlin Hanis Jumahat & Muhammad Hazwan Zaki (CE). |
| Supervisors: | Dr. Mazran Ismail (HBP); Assoc. Prof. Dr. Fatimah Denan (CE) |
Original Text & Photos: Dr. Mazran Ismail and Assoc. Prof. Dr. Fatimah Denan/Editing: Mazlan Hanafi Basharudin