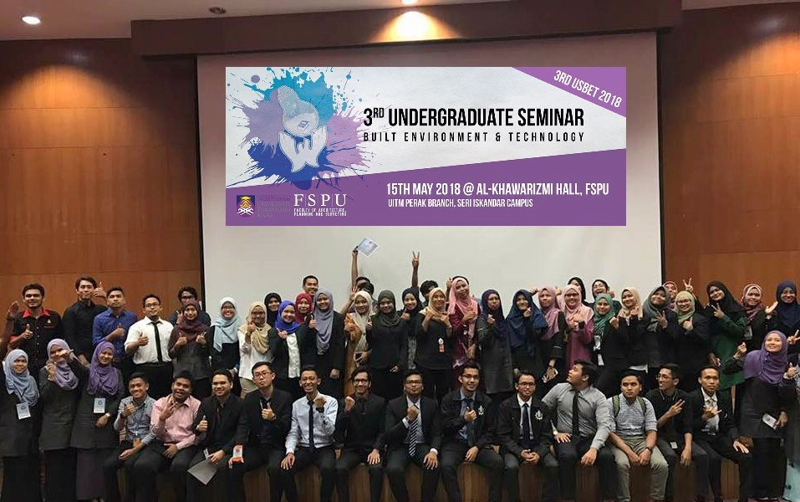 SRI ISKANDAR, PERAK, 15 May 2018 - 6 Universiti Sains Malaysia (USM) students from the USM School of Housing, Building and Planning (HBP) recently represented the university at the 3rd Undergraduate Seminar in Built Environment & Technology (USBET) 2018, organised by the Faculty of Architecture, Planning and Surveying, Universiti Teknologi MARA (UiTM) Sri Iskandar in Perak.
According to the Coordinator of the Building Surveying Programme at the School of HBP, Sr Dr. Md Azree Othuman Mydin, the students who are undergoing the Building Surveying and Building Technology studies won 5 major awards comprising of 2 overall Best of the Best Research Award, 2 gold medals for Oral and Poster Presentations and 1 silver medal for Oral Presentation. They participated in 2 main sub-themes, namely Technology & Engineering and Architecture & Planning.
The winners are:
Nur Aqilah Azahar - Overall Best of the Best Award (Oral), Gold Medal Award (Oral Presenter)

Anisah Mat Serudin - Overall Best of the Best Award (Poster) and Gold Medal Award (Poster Presenter)

Nur Nabilah Mohamad Bakhtiar - Silver Medal Award (Oral Presenter)
Azree said that the seminar is a continuation of the annual conducts of Undergraduate Seminar on Built Environment & Technology (USBET) since 2016. The event was held to attract more participation from local undergraduate students in Built Environment and Technology fields, in the hope to explore more diversified research areas.
This year saw the involvement of 101 presenters from 10 local universities, with all the winning entries from USM supervised by Azree.
"The success was the result of the hard work between the students and their research supervisor, in addition to the strong support from the Dean of HBP, Professor Dr. Aldrin Abdullah," he further said.
The 3rd International Built Environment Undergraduate Research Competition (BEURC 2018) is a competition dedicated to all undergraduates under the Built Environment studies, with the aim of providing exposure and training to the students in presenting and showcasing their research studies.
Text: Hafiz Meah Ghouse Meah