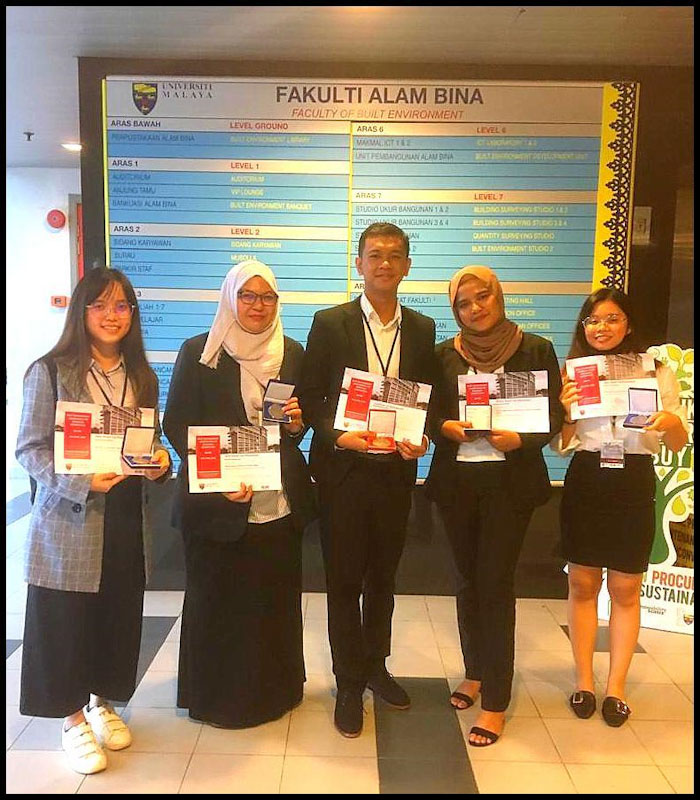 KUALA LUMPUR, 4 April 2019 – Students studying Building Surveying from the Universiti Sains Malaysia (USM) School of Housing, Building and Planning (HBP) made the university proud with a 5-medal haul in the 4th International Built Environment Undergraduate Research Competition (BEURC) 2019, organised by the Department of Building Surveying, Faculty of Built Environment, University of Malaya today.
The medal haul from the USM HBP students comprised of 1 gold, 3 silvers and 1 bronze which were won in 2 sub-themes, namely Engineering & Construction Technology and Architecture & Planning.
The students are:
1. Mohamad Izzat bin Zulkanain (Gold Medal Award)
Title: Designing Warm and Friendly-Spaces for Children with Autism Spectrum Disorder (ASD): Breaking the Mould
2. Chai Yan Qi (Silver Medal Award)
Title: Multi-Sensory Design of Classroom for Children with Dyslexia to Stimulate Learning Setting
3. Wong Siaw Jeng (Silver Medal Award)
Title: Appraisal and Design of Recycled Shipping Container to Provide Temporary Shelter In Post-Disaster Recovery In Malaysia
4. Salwani binti Danya (Silver Medal Award)
Title: Potential of Oil Palm Frond Biomass Fibre as Reinforcement in Foamed Concrete.
5. Siti Nur Aqilah Amanina binti Mohd Kassim (Bronze Medal Award)
Title: Urban Voids - Innovative Adaptive Use of Leftover Spaces under Flyover
The success was the result of the hard work between the students and their research supervisor Sr. Dr. Md Azree Othuman Mydin, in addition to the strong support from the Dean of HBP, Assoc. Prof. Ir. Dr. Abdul Naser Abdul Ghani.
BEURC 2019 saw the involvement of 123 presenters from 10 local and 2 international universities.
BEURC 2019 is an undergraduate competition dedicated to all registered undergraduates in Built Environment programmes both at the national and international levels, with the aim of providing exposure and training to such students as they present and showcase their research studies.
This competition follows the core elements of the built environment, which are building control, building surveying, architecture, planning, facilities management, real estate, and engineering as well as construction technology.