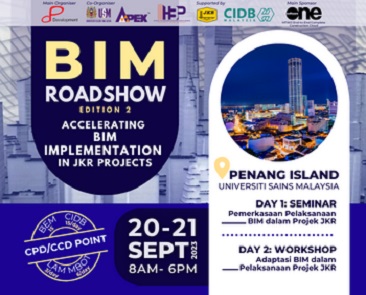 JKR BIM ROADSHOW IN PENANG, 20&21 SEPT 2023
School of Housing, Building and Planning, USM as co-organizer, would like to invite all practitioners in Construction Industry and academicians to participate in JKR BIM Roadshow: Penang.
Discover the Power of Building Information Modelling (BIM) in Construction!
Day 1: Seminar- Accelerating BIM Implementation in JKR Projects: Engage in a technical seminar led by industry experts. Learn how BIM accelerates projects within the Public Works Department (JKR). Gain insights into real-world implementations, challenges faced, and success stories.
Day 2: Workshop - BIM Adaptation in JKR Projects: Roll up your sleeves for an immersive workshop. Dive into the practical aspects of BIM adaptation in JKR projects. Get hands-on experience with BIM tools, collaborative techniques, and best practices directly from professionals who have successfully integrated BIM into JKR projects.
Project Showcases and Case Studies:Witness the impact of BIM through project showcases and in-depth case studies. From planning to execution, see how BIM enhances decision-making, collaboration, and project outcomes.
Networking Opportunities:Connect with fellow professionals in the construction industry. Exchange ideas, share experiences, and create valuable connections that can enhance your professional journey.
Expert Insights:Gain valuable insights from keynote speakers who are at the forefront of BIM implementation. Discover how BIM is shaping the future of construction, from streamlining workflows to improving project sustainability.
CPD Points are availablefor BEM (15), CIDB (15/day), LAM (3/day) and MBOT (6/day)
For more information, please visit
https://mila-asia.com